A radiologist is a medical professional who uses imaging technology to diagnose and/or interventional surgeries to treat patients.
There are four main types of radiologists, and three of them are medical professionals who must attend at least four years of medical school plus a residency or fellowship.
#1: Diagnostic Radiologists
A diagnostic radiologist interprets medical images taken from diagnostic images to diagnose and recommend treatments for patients.
Examples of these diagnostic imaging tests include x-rays, ultrasounds, nuclear medicine scans, magnetic resonance imaging (MRI) scans, and computed tomography (CT) scans.
Those pursuing this medical career path must complete medical training (four years of radiology training and one year of clinical training) plus one year of fellowship.
They can also specialize in one of the following areas:
Pediatric Radiology
Pain medicine
Nuclear radiology
Neuroradiology
Hospice and palliative medicine
Patients visiting their primary healthcare provider may be referred to a radiologist if their physician determines that diagnostic imaging tests need to be done.
Because of this, many radiologists are employed in diagnostic centers.
However, some may also be employed in physician offices, particularly facilities that use ultrasounds often, such as an obstetrics/gynecologist (OB-GYN) office or urology clinic.
#2: Interventional Radiologists
An interventional radiologist has all of the same knowledge and skills as a diagnostic radiologist, but they are also qualified to perform minimally invasive procedures and surgeries to diagnose and treat patients.
Examples of some of the procedures they perform include angioplasties, embolizations, and stent placements.
Becoming an interventional radiologist requires three years of diagnostic radiology training and two years of interventional radiology training.
Interventional radiologists can specialize in any of the same areas as diagnostic radiologists.
You can find work as an interventional radiologist in a variety of medical settings. Those who are actively performing minimally invasive procedures are found working in both hospitals and outpatient centers.
Many of the surgeries performed by interventional radiologists don't require an overnight stay, so outpatient centers are ideal.
However, interventional radiologists can still find work in hospitals, physician offices, and diagnostic centers.
#3: Radiation Oncologists
A radiation oncologist is a radiologist who uses more advanced methods to treat cancer patients.
They use ionizing radiation, as well as CT scans, MRIs, and ultrasounds, to plan and execute treatments.
Radiation oncologists have completed one year of clinical training plus five years of radiation oncology training, and the two areas they can specialize in are pain medicine and palliative medicine/hospice care.
As a radiation oncologist, you'll be able to find work in hospitals, outpatient centers, and even government-funded research centers.
#4: Radiologic Technicians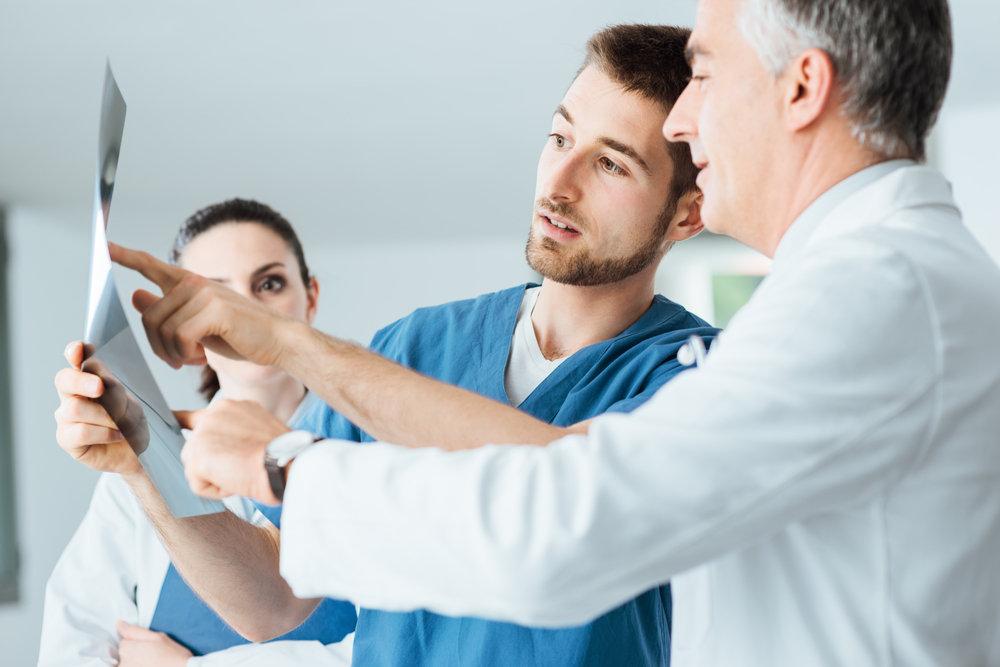 A radiologic technician or technologist works under the supervision of a diagnostic radiologist, performing CT scans, MRI scans, ultrasounds, x-rays, and other imaging tests.
Radiologic technicians don't have to complete medical school— instead, they only have to complete a two-year associate degree program in radiologic technology.
Those who have pursued additional training and education can find work in a variety of diagnostic radiology subspecialties:
Musculoskeletal Radiology
CTs, MRIs, ultrasounds, and x-rays are used to diagnose ailments affecting the muscles and the bones.
Head and Neck Radiology
CTs, MRIs, ultrasounds, and x-rays are used to diagnose conditions affecting the head and neck.
Gastrointestinal (GI) Radiology
CTs, MRIs, ultrasounds, and x-rays are used to diagnose illnesses affecting the stomach, intestines, and abdomen in general. Other GI procedures, such as fluid and abscess drainage, may also be done.
Chest Radiology
CTs, MRIs, ultrasounds, and x-rays are used to diagnose diseases affecting the heart and lungs. Lung biopsies and drainage of fluid from the chest may also be done.
Cardiovascular radiology
CTs, MRIs, ultrasounds, and x-rays are used to diagnose ailments of the heart, lymphatic, and blood vessels.
Breast Imaging
MRIs, mammograms, and ultrasounds are used to diagnose conditions such as breast cancer. Breast biopsies may also be done.
Takeaway
If you're a radiologist searching for employment, you're most likely to find your next job in a hospital or medical center.
This is because radiology is a specialty and not a part of a normal visit to one's primary care provider— though this doesn't mean that you can't find work in a physician's office.
In general, radiologists can expect to see about a 9% increase in job availability over the next decade, which is faster than average job growth, and radiologic technologists can expect to see a 6% increase (which is average growth).
No matter what type of radiologist you are, it won't be too hard to find a job, as radiologists are needed in a variety of medical settings and a variety of subspecialties.